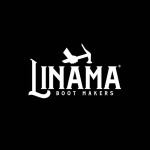 Linama Boots Company a family owned business!
Linama was born after the passion of making a traditional boot made entirely by hand, providing total comfort with our customization process of full measurements in a mold of each foot and calf for a unique and satisfactory experience with every detail perfected to the taste of each client.
Gorge and Fanny Marroquin, its founders, opened their doors in the Historic town of Old Town Spring in the city of Spring, TX.
The name was chosen  after their kids names Litzy, Nathan, and Mateo, giving their company values of  a truly family owned business.