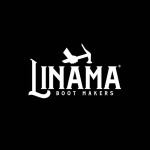 A Family Owned Business!
There's nothing like putting your dreams into the hands of a true artisan. Custom boot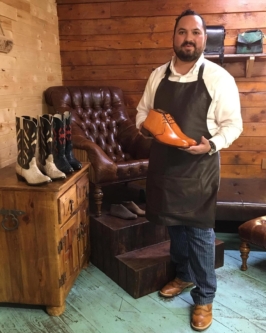 maker Gorge Marroquin of Linama Boots provides just such an experience for his customers.
Stepping through the door of the Linama shop is to be transported to another time. A sense of nostalgia takes hold as you're enveloped in the smell of fine leathers and your eyes glide across the rows of finely crafted boots lining the rough-hewn shelves in perfect formation.
Customers sink into a leather chair and enjoy their favorite spirits from the small bar, as country tunes underline the warm and easy conversation and Marroquin sets to work, getting to know them, in order to make for them a pair of custom boots they never thought possible.
Gorge Marroquin is a third-generation boot maker, following in the footsteps of his uncles, who were artisanal boot makers starting in the 1940's in Mexico. Over the years, said Marroquin, the number of those skilled in the art of handmaking a fine pair of boots has dwindled.  "The custom boot makers are disappearing, and so the tradition. So we decided to keep the tradition and bring back bespoke, artisanal boot making."
When Marroquin and his wife Fanny set out to turn his passion into a business, they knew what they wanted to achieve: Create a boot shop that felt more like a neighborhood gathering place than simply a boot store.  Marroquin said that it's not only the skill but the dedication to customers that make for success.  "They can trust us in making their dreams of perfect footwear comfort and style come true."
The Marroquins went about choosing their location carefully, and in 2015 Linama Boots opened its doors in Old Town Spring. Marroquin says they felt aligned with the historic nature of the area and the many other artisans and artists whose storefronts line the cobblestone walkways there. "We knew it would be a good environment for our vision…" Fundamental to all else was building the business on a foundation of family. Emblematic of this is the name, "Linama," which is a blending of their childrens' names–Litzy, Nathan and Mateo.
Precision is integral to the art of fine boot making, and accurate measurements make the difference. At Linama, each foot and calf is copiously measured, and the smallest details are attended to with great care. Marroquin effortlessly weaves this exactitude and discernment into a warm and attentive conversation style. The more at ease the customer, the stronger the connection, the better he is able to understand a customer's needs.
Marroquin takes the time: He asks about a customer's stride. How do their feet feel when wearing various types of shoe wear? Are there any foot problems or pain? The conversation is an art unto itself, as he gets to the heart of what his customers are looking for. Often the talk veers into hopes and dreams, all personified by the joy of finding a place like Linama–the boot of your dreams at a price that is unmatched among fine custom bootmakers. Boots at Linama typically start at $800, ranging up to $6,000, with the type of leather, the level of design intricacy and the amount of personalization determining the final price. In addition to boots, clients can choose from Linama's exceptional selection of dress and casual shoes, as well as belts, wallets, handbags and accessories.
The Linama "family" of clients is a loyal one, and its number continues to grow–so much so, that a second location in CityPlace, near the ExxonMobil campus, is in the works for this fall. Marroquin said plans for Linama do not stop there. "We want to keep the tradition and the legacy of real custom boot making alive and expand our business worldwide."
Marroquin's grand vision certainly seems achievable after reading the lavish praise for his boots that can easily be found online. The magic of a new pair of finely crafted boots is not to be taken lightly. They can set a new course, create a whole new state of mind for the wearer. As one glowing review on the Linama website puts it, "I walked out a new man today."
Article by Laura Green
Photography by Lenora Stein
Originally published in The Woodlands City Lifestyle